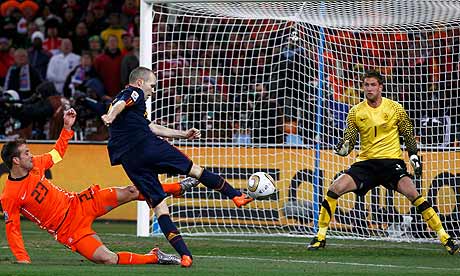 "I'm all for teams going into matches with a gameplan, but I just don't think there is any place in football for the way the Netherlands approached this match. They kicked the opposition up and down the pitch for 120 minutes - but in the end, Andres Iniesta ensured World Cup glory went the right way, to Spain." Alan Hansen - BBC Sport
David Seaton's News Links
Rinus Michels
, the man who "invented" Dutch football, the man who created "The Clockwork Orange", must be turning over in his grave,while watching the Dutch selection lose yet another World Cup final after playing some of the ugliest, most mean-spirited, thuggish, anti-football in living memory.
Finally the elegant football of Spain won out, a style based on intricate collective passing and possession: sublime, brilliant and beautiful, where sheer skill defeats brawn and size.
The irony is great, because the Spanish style is actually the maximum expression of the classic Dutch style, created by
Michels
in Ajax Amsterdam in the 1970s and developed by him in Barcelona with
Johann Cruyff
as a player and continued by Cruyff later as Barça's coach, later perfected by Cruyff's disciple
Pep Guardiola
. This is the same style that
Louis Van Gaal
(also ex-Ajax, ex-Barcelona) is also introducing successfully in Bayern Munich and which is the heart of the exciting new German national team.
"Total football", the original Rinus Michels concept, means everyone defends and everyone attacks in a constant flow... this is Barça's football and there are seven Barça players on the Spanish squad. What they do is dominate the entire field beginning with the center field. The only way to occasionally defeat it is like the USA did last summer in the Confederations Cup, like Switzerland did in the first round, like Paraguay nearly did in the second round and like Inter Milan did to Barça in this year's Champion's League and Holland tried to do on Sunday night: park a bus in front of the goal and pray you can score on a fast breaking counterattack. There is no other way.
This perfection was a long time coming. For a football obsessed nation, with some of the world's best club sides, a mysteriously long time.
Why it took so long for Spanish football to come up with a winning formula has an interesting story behind it.
Old Spanish republican loyalists returning from exile in the 70s gave me an interesting angle on this process.
In the 1920s and 30s, they told me, Spain played a similarly technically skillful and elegant football as they do today, but, as football is a working class sport, so naturally most of the best players and coaches of the time were men of the left, thus when the Civil War was lost, they were either dead, imprisoned, purged, or had emigrated. Those were the days without video so all their accumulated skills were lost to Spain. This was football's version of ethnic cleansing.
The fascist regime had very few qualified trainers and I was told that, for example, the technique of "putting English" or a curve effect on the ball in a free kick, had been completely lost. The fascists tried to supplement the lack of basic skills with something they called, "la furía española", somehow overwhelming the opposition with their hairy chested macho temperament... since Spanish people are generally some of the smallest in Europe, this tactic led to many disappointments.
Finally, in great part thanks to the Holland-Spain connection, Spain has rediscovered a style that fits their natural proclivities: elegant, incisive and rather tauntingly cruel, something perfect for players like Xavi and Iniesta, who Gideon Rachman of the Financial Times calls the "brilliant midgets", to defeat bigger, stronger and faster men... Bullfighting with the opposing team as the bull.
In present day Spain's cheerful implacability on the football pitch, you can see why the
Tercios de Flandes had such a run
back in their day... also at Dutch expense.
There is even ideology involved in all of this.
When American wing nuts
accuse soccer of being "socialist"
, they may have a point, at least in referring to the Barça-Spain way of playing the game.
This way of playing football is not about stars, it is about supremely skilled individuals pooling their talents and playing "all for one and one for all", where that most socialist of formulas, "from each according to his ability, to each according to his needs", is rigorously applied: they
all
need and want the ball
all
the time. When they lose it, they
all
try to get it back and then when they get it back, they pass the thing around and around until they
all
get their share of it... the only problem is that they refuse to share the ball with the other team. Oh, well, like Joe E. Brown told Jack Lemmon, "nobody's perfect".
DS