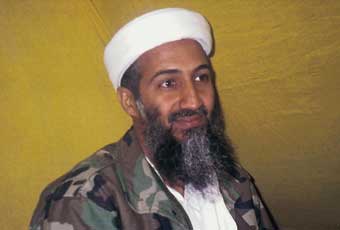 David Seaton's News Links
Many people seem to think that the
Democrats are a shoo-in to win the the US presidency in 2008, but I'm not so sure.
Neither Hillary or Obama are in any way Swift Boat proof and any of the gentlemen pictured (except the one with the beard) could easily end up occupying the White House. Impossible you say? Following Bush, unthinkable that a Republican could win? Think about it a little more.
The one with the beard, Osama bin Laden, has been doing very well with Republicans. Surely he would prefer another ugly, national security Republican as an adversary. He once told Robert Fisk that his main objective was to leave the United States "a shadow of itself"... The Republicans have done everything possible to oblige him, and in effect, the United States is now a shadow of its former self. Why would Osama, of all people, want to change?
With a simple video appearance he won the last election for Bush. This time it probably would take a bit more.
Imagine that either Giuliani or McCain were running against either Hillary or Obama and Al Qaeda pulled off another "big one" in the USA. I would be amazed if either of the above named Democrats could survive that, which is a very good reason to believe that Osama would choose that moment to attack.
Here in Madrid we have lived though exactly the same dynamic. Bin Laden saw that a few bombs at the right place and the right time would have the maximum effect and it did: the government fell and the Spanish troops were withdrawn from Iraq. Because this "alignment of the planets" has long been visible on the horizon, I would imagine that whatever Bin Laden has in mind has been long in preparation, at least three, perhaps more years. Its elements are already in place and simply "sleeping" waiting for the moment... which logically would come late in the presidential campaign... second half of October, I would imagine.
I think this is, if not a sure thing, extremely probable. The only Democrat that could possibly survive this would be Al Gore, and I'm not sure even he could. So all the the Democrats that think the presidency is like a ripe fruit ready to fall into their laps should think again.

DS