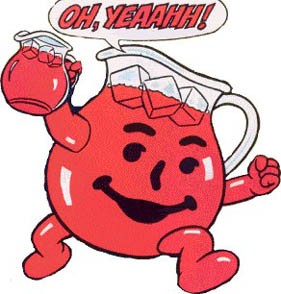 Some Obama supporters worry that the spectacle of their candidate eagerly embracing his old rival, Hillary Clinton, and traveling the country courting big donors at lavish fund-raisers, may have done lasting damage to his image as an arbiter of a new kind of politics. This is a major concern since Obama's outsider credentials, have, in the past, played a large part in his appeal to moderate, swing voters. In the new poll, McCain leads Obama among independents 41 percent to 34 percent, with 25 percent favoring neither candidate. In June's NEWSWEEK Poll, Obama bested McCain among independent voters, 48 percent to 36 percent.

Newsweek
David Seaton's News Links


There are all kinds of independents, left, right, center... you name it. They probably only have one trait in common: an aversion to drinking Kool-Aid.

Drinking Kool-Aid is about commitment, sacrificing core principals can only be justified, if it can be justified, in pursuit of a great cause.

Certainly, nothing could be more absurd than to drink a Kool-Aid with no ideological content whatsoever.

Newsweek wonders:
But perhaps most puzzling is how McCain could have gained traction in the past month.
This election is not about McCain, it is about Obama, McCain cannot win, but Obama can lose.


My reading of Barack Obama that he is his own space or he is no space at all. His secret has been the charm of his difference. If he loses that special quality, and by now there is little left, it will be like Cinderella's coach turning back into a pumpkin and all the pretty horses back into scurrying, little mice.

That is what is happening now, I predict it will go very fast once it starts and that some of the super-delegates may begin to have second thoughts by the end of the month.

The Democrats have thrown a once in a generation opportunity away.

DS